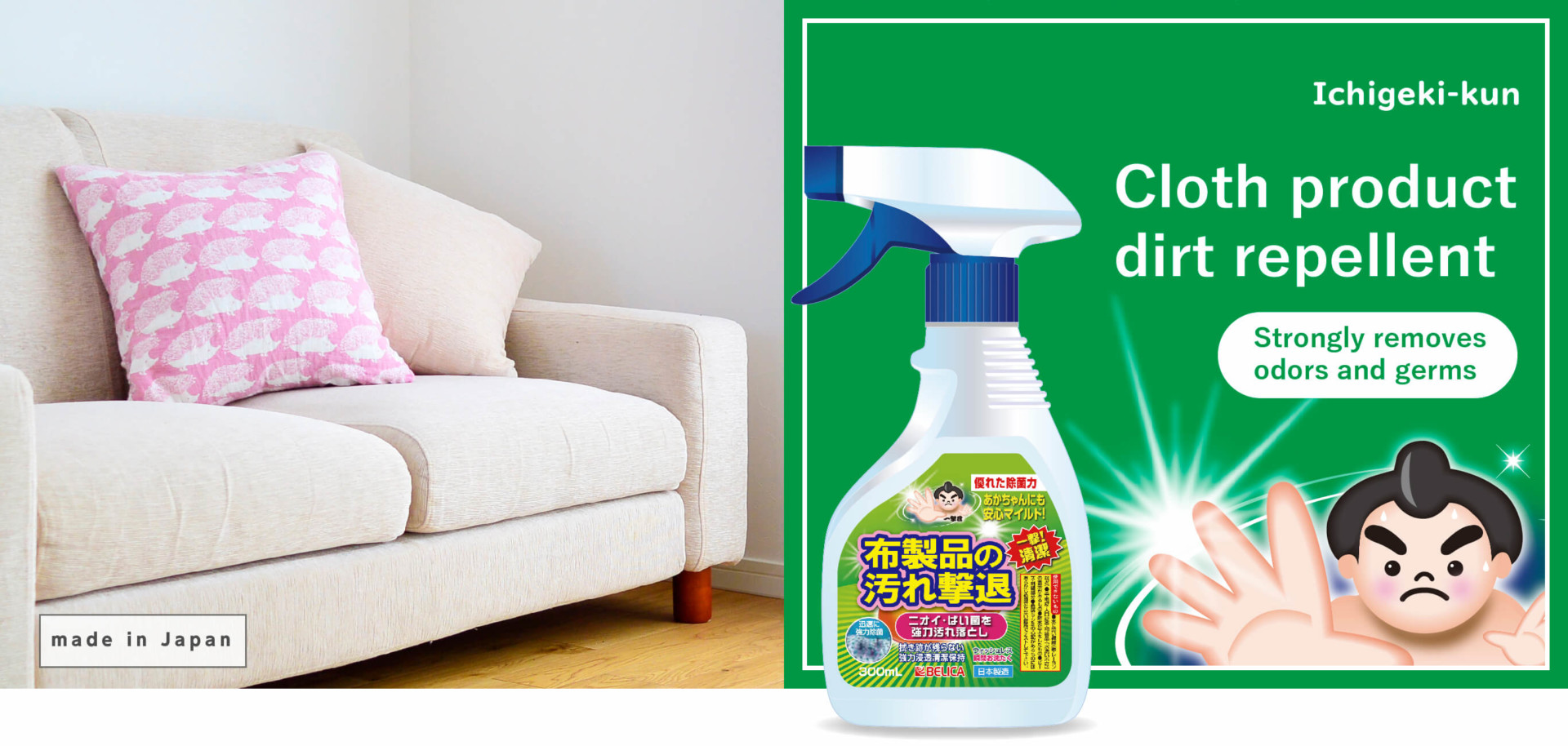 Cloth product dirt repellent
Just spray to remove stains such as juice and coffee!
[How to use] Turn the injection port "ON" and spray directly. ● Spray 10 cm to 20 cm away from clothing until the whole is lightly moistened. ● When removing wrinkles, use 1 to 2 times in the same area and 10 to 20 times per piece. After spraying, stretch the dough by hand. ● If you are concerned about wrinkles or odors, spray an appropriate amount according to your preference. ● After spraying, please dry well. ● Please wear after the clothes are completely dry. * For "spilled food stains" and "severely soiled parts", first remove the stains before use. (It may become a ring stain due to dirt.)
Detail
Ichigeki-kun
Cloth product dirt repellent spray type
[Use] Has sterilization, deodorant, and wrinkle removal effects. Please use for cloth sofas, cloth clothes, cloth cabinets, cloth shoes, curtains, sheets, carpets, in-car cloth products, etc. * Not all bacteria are sterilized.
[This product contains natural plant ingredients and various aqueous active substances. ]
● It is not corrosive and can remove dirt, dust, oil, etc. without damaging the material of the cloth. Simply spray lightly to remove germs on the cloth and eliminate unpleasant odors. ● Quickly clean cloth products such as town coats and clothes.
Net amount: 300mL
Ingredients: Fiber lubricant, disinfectant, deodorant, ethanol, fragrance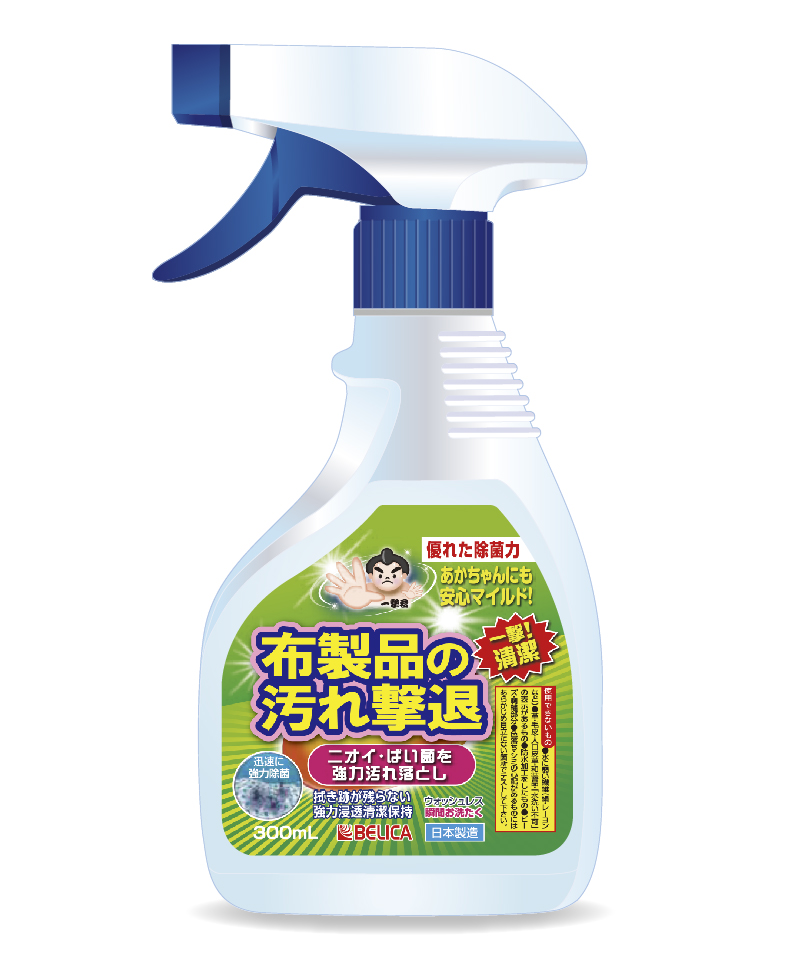 [Precautions for use] ● Do not use for any purpose other than its intended purpose. ● If it gets on flooring, vinyl floors, home appliances, or furniture, wipe it off immediately. (It may cause "stains" or "slip".) ● When using in a narrow space, improve ventilation. ● Be careful not to inhale or get this in your eyes. ● Do not spray your clothes while wearing them. ● Should this get in your eyes, rinse immediately with running water without rubbing. ● Depending on the material, it may cause stains. Be sure to test in an inconspicuous place before using. ● Product packaging and specifications are subject to change without notice.
[First Aid] ● If swallowed by mistake, take measures such as swallowing water and bring this product with you to consult a specialist. If you feel sick, discontinue use. If it gets on your skin, wash it off with water. [Precautions for storage] ● Store in a cool and dark place out of direct sunlight. ● Keep out of reach of infants and children. ● Do not store in a tilted state.
[Disposal method] ● After the contents are used up, dispose of them according to the disposal method specified by the residents' association.
[Unusable items] ● Fibers that are sensitive to water (silk, rayon, etc.) ● Leather, fur, artificial leather, Japanese clothing, items marked as "not washable" ● Waterproof items ● Beads, embroidered parts ● Discoloration・ If you are worried about stains, test in an inconspicuous place in advance.